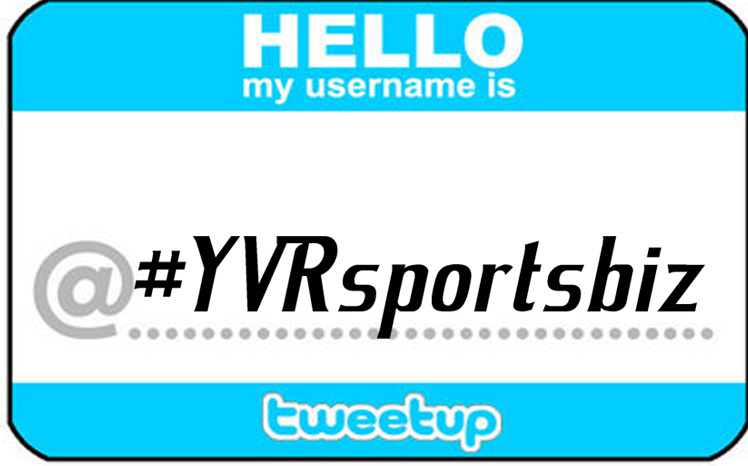 Posted 31 March 2011
We're already looking forward to the next #YVRSportsbiz tweetup!!
As a little case study of its own, we thought we'd outline how the whole event came together.  With so many social media pros in the room, we thought this would provide a good discussion starter, feedback on what we can do better for next time and maybe help a few people out as they plan their next digitally-driven event.
Our Outreach
WEEK 1 – March 14th to March 21st
Scanned the sports calendar to find a date that would work for most sports business people

Connected with @Mozy19 and @Fiveholeforfood
Coordinated space at The Charles Bar between Canucks games and any other big schedule items for most leagues and stakeholders
Created twitter list of YVR sports social media people: @5sports/yvrsportsbiz-sm

Set up Eventbrite invitation – Very effective, easily shared, monitored, and optimized.
EVENTBRITE:  Top Traffic sources:  1) Direct Traffic  2) Twitter  3) Facebook  4) LinkedIn  5) Google
Set up profile on VancouverTweetup.com – No responses, but we did direct any traffic here over to the Eventbrite registration page. That or you guys just don't hang out on this site.

Posted event into Plancast.com – similar results to VancouverTweetup.com

Posted to 5T Blog – 43 hits with little to no social media push to this page.

DM'd, LinkedIn, Facebook messaged, and emailed a number of direct contacts with invitations and an ask to help spread the word (And you did! Thanks!)
Distributed PRLog release –
| | |
| --- | --- |
| Unique Hits | 101 |
| Total Hits | 120 |
| Headline Impressions | 1000+ |
Started Tweeting and posted to Facebook – In week one we tweeted 48 times earning 47 mentions and 9 retweets and connected with 59 new followers.

Built a twitter list of YVRSportsbiz social media tweeps, started using #YVRsportsbiz

Connected with key influencers for blog support and to invite them to the event for their insights.

Monitored discussions online – engaged and amplified wherever possible
All 50 tickets were reserved in week one!
Week 2 – March 21st to March 28th
Opened 25 more tickets after connecting with The Charles Bar

Sent email blast through EventBrite to existing team contacts in vicinity of Lower Mainland – 41 emails sent, 20% open rate, 6 bounces.

Organized data on attendees and sent out targeted invites in order to balance the group between Bloggers, Marketers, Key influencers, Teams, Sports Organizations and Sponsor Company's.

Daily tweets about event –  In week two we tweeted  43 times earning 31 mentions and 2 retweets and connecting with 32 new followers.

Corporate Champions Vancouver offered door prizing – WOOT!
Created a public twitter list of registered attendees for #FFhttp://twitter.com/#!/5TSports/yvrsportsbiz-tweetup-1
Week 3 – March 28th to March 30th
Some great pickup with local bloggers (thanks again guys) made for a twitter filled Monday

Wrote an email blast to everyone inviting them to start chatting pre-event through the hashtag #YVRsportsbiz as well as to inform them on how to enter for the @CC_Vancouver prize and support @fiveholeforfood!

Connected with a few more sports bloggers to get their input at the event.

Whitecaps donated tickets to raffle off and The Charles Bar offered to get things going with a few pitchers of beer on the house.

Ron Sombilon volunteered to photograph the event and support #FHFF, we'll email out a link to the photos asap.

Continued monitoring and engaging in discussion and daily tweets up to the event. Some of our tweets about the event started earning 10's of thousands of impressions (crowdbooster.com)
Results
A seriously great time at The Charles Bar. It was a great crowd and we overheard a lot of great discussions and ideas being tossed around.
Fiveholeforfood got some good exposure and with your donations earned a decent chunk of change to put towards the food bank.  Also, moving forward, it would be great if we can all help @fiveholeforfood with some good buzz through the summer to help drive donations at their 125Vancouver game and their cross country food drive!
The buzz earned us a lot of new followers and hopefully lead to a lot of new follows and connections amongst the group as well. We doubled our average number of daily new followers from 3.3/day before the launch of the event to 8.2/day post launch on the 14th(twittercounter.com).
A lot of good traffic to our site, Google Analytics from the start of the campaign on March 14th: 1295 pageviews, 605 Unique Visitors, 71.57% of which were new visitors. This resulted in some great conversations with people from all sides of the sports business game.
The Charles Bar also got some good buzz out of the event, particularly a good number of impressions thanks to some top blogger RT's. They also got a full bar of sports lovers (all of us) who will spread the sports watching gospel  that is per table tv's.  Surely we will all be back to catch a game and enjoy our replays up close again soon.
Looking forward:
Based on the already great feedback we've had, we are committed to continuing the series.  Our gut tells us every other month is about right. We're open to suggestions and ideas on this one and will keep everyone posted on the next location and timing, we're thinking late June. Let us know what you think!
Our strength to support Vancouver sports industry, community building, and just general fandom is amplified when we  connect on this level and get to know the people behind the Twitter handles and web sites.  The world of online sports marketing is changing and evolving everyday – knowing you have an awesome sounding board here in your own backyard helps everyone stay on target. We hope to see some awesome partnerships, activations, creative executions and cooperative support come from this inaugural get together.
We're sure we've missed a few great tweeps so please invite whomever you think might find and add value to the group. We have set up a LinkedIn Group: "Vancouver Sports Business Network" and think it will be a good place to stay connected and keep sharing insights and opportunities with each other.
What'd you think?
We'd really like your input on how we went about getting the event out there. What can we do better next time to get people pumped? Are there any cool apps out there that we missed or could have developed some more buzz for the event and Five Hole for Food? Please tweet at us or comment below!
Looking forward to even more great discussion into the future.
Cheers!
PS. We'll be sending out an email with an invite to the LinkedIn group as well as a link to all the great shots that Ron got from last night. Looking forward to the tagging madness to begin!